Rockabilly Beatdown
Rockabilly Beatdown Update 1.5
---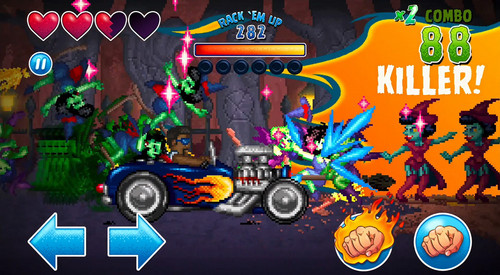 Hello, itch.io! It's been a while but we're still around and want to let you know that Rockabilly Beatdown Update 1.5 is now available for desktop! This is a major update from 1.3 -- if you haven't played recently this is a great excuse to boot up again, and if you don't have the game why not check it out?
NEW FEATURES + UPDATES:
Hotrod! This is the big add for this update, the new Hotrod Super! As you raise your combo count, bouncing tires will spawn. Punch and collect 6 tires to spell out H O T R O D and summon your flaming ride to come in and mow down enemies by the dozens. This super move really racks up the T.C.P. count during longplays and can even send your combos through the roof allowing for immediate punchtastic follow-ups. Every hero has their own animation to hop in their ride, and there are even special color variants depending on what hero costume you have on.

Music: We have an all new soundtrack by Dan Wrigley. The game has a refreshed feel with all the music updates and really leans into the Rockabilly/16-bit mashup it was meant to be. We hope you start humming along as much as we do.

Level Spawning: We've listened to a lot of feedback about pacing and spawning for the endless nature of the game, and have made some noticeable adjustments. If you haven't played in a while, you really ought take it for another spin. In addition to continued tuning of each level's spawning waves, we've added "speed demon" cues on some enemies that will certainly keep your attention. The game will get harder and more frantic not only per level, but as you progress through levels as a whole. The longer you play, the more challenging it gets bit by bit, but staying alive will allow for some well-earned high scores. Eventually you'll wrap back around to the beginning's first level pace.

New Levels + Art Updates: Along with even more levels to punch through, there are a bunch of general tweaks and corrections, some very noticeable, like the first level forest graveyard.

Monster Skins! A quartet of monster skins are yours to punch with. Get green with Frankenskins for Kimber and Bruiser or howl along with Werewolf skins for Ace and Manny. All monster skins get an exclusive Monster Hotrod when triggered!

Under the Hood: Lots of dev-related stuff like bringing the game engine up to date with latest platform requirements. Players found some bugs, we found some bugs, and hopefully took 'em all out.

Thank you to everyone who keeps playing and those who contact us about the game. If you'd like to give a little extra support, take a minute to rate or review on your platform of choice. Please follow us on Twitter @Rumblecade for cool art and gifs, and stop by our dev tumblr for more. Happy Halloween!

Files
RBBD_v1.5_OSX.app.zip
135 MB
Nov 03, 2019